Nov 1, 2022
rae
Robotics Access for Everyone
Since our founding in 2019 Luxonis has been focused on one thing, robotic vision. With AI, ML, and CV all on-device, our OAK cameras have made a big impact across the world of robotics. Our customers work in a diverse range of industries and have used OAK cameras to implement solutions ranging from wildlife conservation, automated checkout, roadside worker safety, vehicle collision prevention, infant healthcare monitoring, and pesticide reduction in agriculture. And that's just scratching the surface.
With our help, our customers have built robots of all shapes and sizes to improve the engineering efficiency of the world. We take immense pride in providing the essential components to allow these devices to perceive and engage with the world like people do. Without robotic vision, it couldn't happen.
One challenge we are constantly confronted with in robotics, however, is that the barrier to access can still feel out of reach. So much of robotics is still new or evolving, and requires a level of technical expertise that sometimes makes it difficult to translate the power of its solutions to our everyday lives.
We wanted to find a way to change that.

Introducing, rae: Robotics Access for Everyone. With rae, we're creating our first ever fully formed robot, which packs all the power robotic vision–and much more–into a robot small enough to fit in your pocket. It is designed to be an entrypoint into the world of robotics, lowering the barrier to allow people of any skill level to expose themselves to the kinds of things cutting-edge robots can do.
Join us on Kickstarter today to help us make rae a reality, and get one of your very own!
With rae, beginners can play, students can learn, and experts can create.
Right out of the box, rae comes standard with a specially designed application that works with any smartphone or tablet. The app comes loaded with a full suite of software, letting rae do everything from play games, solve problems, and serve as a tool to make your life better. Object finding, location mapping, games for your kids, sign language interpretation…these are just a few of the things rae can do.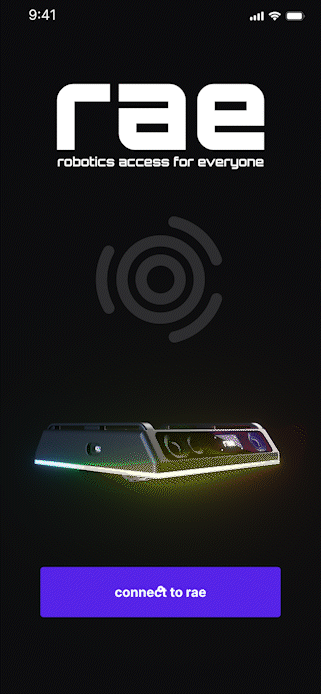 And rae doesn't stop there. It comes with ROS 2 fully preconfigured, letting you take full advantage of its range of libraries and tools. It has SLAM (simultaneous localization and mapping) for autonomous movement and location awareness. It is based on our OAK line of cameras, offering all the same kinds of Spatial AI perception solutions. It is fully compatible with our Depth AI API. And it can be seamlessly used in tandem with Unity for machine learning applications.
Want more? No problem.
Unlike other consumer home robots that have the majority of their functionality pre-determined, rae has potential beyond its pre-built offerings, and serves as a platform for more advanced users to create and build. If our initial software collection doesn't solve your problem, simply develop your own. Since it's fully open-source, rae is wide open for customization. And it will link directly to our new cloud based platform, RobotHub, for easy sharing and collaboration with a worldwide network of rae users.
And while experts will be able to take advantage of these opportunities for customization and development right away, they also make rae perfectly suited for students. Through guided instruction, rae is the ideal canvas for intermediate roboticists to learn by doing. Get under the hood, experiment, and design, all with rae. We think every classroom should have a rae.
There's so much that rae can do and so much it will be able to do that we can't even predict yet. With it, we aim to democratize industry-leading robotic functionality, and we hope you'll come along for the ride.
Once again, be sure to visit our Kickstarter to support rae's development and keep track of our progress as rae continues to take form. And if you have any questions, we are always there for you on Discord.
---